Did you see the drone flying over the Marketplace Monday???  And the HUGE crowd there???
The Kiwanis Club / Foundation hosted the Marketplace's 5th Anniversary Party on Monday, August 12th with 130 Marketplace volunteers and Kiwanis members attending who came attired in Hawaiian shirts and dresses.   Geno Orrico, Chair of the Marketplace Facility, directed the Hospitality Committee members, Ed Edling, Toby Payne, Jacki Brown, Joyce Jordan, Donna Doran Leo Readon, Linda Fleisher, Alexis Sterling Popovich, George and Joan Hofer. The crowd was so large, they had to solicit additional parking space at the Good Shepherd of the Hills Episcopal Church across the street where they were kind enough to allow us to park attendee's cars.
In preparation for this event, significant renovation projects at the Marketplace were completed led by Geno along with General Manager, Sandra Carrier and her staff doing major painting of several rooms, fixtures, and the cash/wrap area, and the replacement of the floor in the clothing area.  Early in the evening all attendees were directed to the newly repaved and re-stripped parking lot in front of the store for the drone produced photographs which were done by Bill Waters of Air Major Media.  Candid shots throughout the evening were done by Jacki Brown.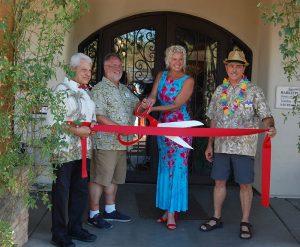 There was even a "ribbon cutting" to celebrate the good fortune of the great reception by the Cave Creek area and the support the community has given to the Kiwanis Foundation over this past five years so Kiwanis Club and Foundation could donate the hundreds of thousands of dollars to the schools, charities, and community projects over the years.
Mike Poppenwimer, President of the Kiwanis Carefree said he was very moved by the number of volunteers who came up to him at the party and said how much they enjoyed being a part of the mission of the Kiwanis to serve the Children of the Community by volunteering at the Marketplace over the years.  During the program, Mike and Geno repeatedly thanked the volunteers for all of their hundreds of donated hours each year to support the Marketplace's mission of funding the programs to give to the Children of the Community.
Wonderful music was provided by Jimmy Nicholas who donated his proven skills at his keyboard for the entire evening while attendees dined on a special Hawaiian meal prepared by Harold's.
(click on any image to see the full size)